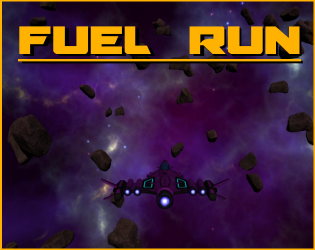 Fuel Run
Fuel Run is a spacing mining game with a chase element. You are the pilot of a small mining and refueling ship and have been hired by Helado, a notorious smuggler. As Helado makes his smuggling run of 1000 light-years to the distant planet of Giorgia, your job is to enter asteroid belts and mine for Zurg and when your fuel tanks are full, return and refuel Helado. The more fuel Helado has in his tanks, the faster he goes.
But be fast with your work because the legendary lawman BT Justice is in hot pursuit of Helado and if Helado´s fuel tanks get too low, he will be forced to slow down to conserve fuel and allowing BT Justice to gain ground on him. Inside the asteroid belts, you will frequently encounter enemy miners and patrollers, destroying them will often result in you getting ship upgrades from among the debris.
Fuel Run features a unique difficulty system where there are 10 different difficulties catagories going from 0-10 resulting in an overall difficulty system of 0-100. As you complete smuggling runs with Helado, you can continue making more smuggling runs with your upgrade ship on higher difficulties. Because of the difficulty system, you can choose which catagories to raise to achieve and overall higher difficulty. Two high scores are kept. The first is the highest difficulty at which you completed a smuggling run. The second is the furtherest distance you managed to complete on difficulty 100 before Helado is captured by BT Justice. Completing a smuggling run on difficulty 100 is the ultimate win scenerio.
Controls
Right Mouse Button - Thruster ( fly forward)
Left Mouse Button - Fire Laser
A - turn left
D - turn right
W - Pitch Up
S - Pitch Down
Q - Barrel Roll Left
E - Barrel Roll Right
ESC - Pause / Unpause
I sincerly hope you enjoy Fuel Run and consider running to this page and buying the game. This will help me make improvements to Fuel Run as well as continue developing my next game titled Defense of Darwin.
Purchase
In order to download this game you must purchase it at or above the minimum price of $3.99 USD. You will get access to the following files: